BEST 20 KITCHEN COUNTERTOP DESIGNS FOR YOUR KITCHEN
Choosing the right kitchen countertop designs is very crucial when it comes to kitchen interior design, as the kitchen slab defines the look of your kitchen and so you have to be very careful while selecting the right building material for your kitchen countertop.
There are so many aspects that you need to consider when you think about giving your kitchen countertop a new look or design. Be it a modular kitchen or a normal kitchen, the look of the kitchen countertop designs has the full potential to enhance the charm of your kitchen interior.
In today's blog post we will be discussing the top 20 kitchen countertop designs which will help you in choosing the right building material for your kitchen slab with their pros and cons for your beautiful kitchen interior design. Read the blog to find out all of them.
1. Granite as kitchen countertop design
When there were no cost concerns, 'granite' was the countertop material of choice for a long time. Granite is the epitome of elegance in the kitchen. When the elegance of granite countertops is added to a kitchen, it transforms it into a luxurious place.
Granite kitchen countertop designs are still the most popular choice among homeowners. They provide a high-end aesthetic and add value to your kitchen and also provide a durable prep surface. 
Advantages And Disadvantages
There are so many distinct colors and varieties to choose from. When treated with modern sealers, it's almost maintenance-free and indestructible when it comes to heat.
But the materials are expensive and not suitable for DIY installation. If pressured or placed incorrectly, it can crack.
2. Soapstones
Soapstone is a natural stone that comes with a smooth and silky texture. It has recently regained popularity as a granite substitute. Soapstone is commonly seen in old homes, but it is also utilized as a kitchen countertop in modern residences.
Soapstone develops an antique-like look over time, which can be particularly appealing in certain kitchen materials. The architectural soapstone used for kitchen countertops is quite durable and stain-resistant.
Advantages And Disadvantages
The color of soapstones is deep and rich, which is a plus. It is stain-resistant to a degree. Its heat resistance is good, and damage may be sanded. It gives the kitchen slab an antique and historic look.
It has some disadvantages too like it may darken over time and requires mineral oil for treatment. And, scratches and dents may appear on the surface.
---
ALSO CHECK OUT
---
3. Marble
This stone's ageless charm offers any kitchen a decidedly high-end aesthetic look, while the price is comparable to certain granites. Marble is porous, so staining can be an issue. Its creamy surface will look its finest with regular sealing and careful care with anything acidic to avoid etching.
Advantages And Disadvantages
It is water and heat-resistant and is an exceptionally good-looking stone with distinctive veining. And, it increases the value of the home interior in many ways but marbles are expensive, porous, and rapidly stains if not sealed.
4. Quartz
This kitchen countertop stone is made of quartz particles and other minerals. Engineered quartz kitchen countertop designs are stain, heat, and impact-resistant and they can be one of the best choices for your kitchen interior design as the quartz kitchen slab gives a kitchen a very modern look amongst other kitchen slab building materials.
They do not need to be sealed like genuine stone countertops because of their non-porous surface and comes in a variety of colors and patterns and are often compared to granite, the perennial top pick.
Advantages And Disadvantages
This countertop is very heavy/ sturdy and expensive. But, DIY is possible, and it is easier to maintain also. It is stain-resistant and heat- and acid-resistant.
5. Corian Kitchen Countertop Material
Corian countertops are stylish and appear to be identical to marble and granite, but this is the only similarity they have. This material's appearance and polish make it a popular choice for designing kitchen countertops or house interiors. It is also called solid surface countertop material.
Advantages and Disadvantages
It also comes with several pros and cons. Corian countertops come in a rainbow of colors, ranging from vibrant pinks and purples to turquoise and cold blues. The material is stain-resistant and cleans up quickly with only water and soap.
Although Corian countertops are stain-resistant, they are easily scratched and, in many cases, permanently. And it is important to avoid scratching them with knives and other heavy equipment. Although buffing can be done on Corian countertops, it adds to some extra effort while maintaining for a longer period of time.
6. Tiles
They come in many different designs. Ceramic tile is long-lasting and easy to clean, and it is much less expensive than natural stone, quartz, and marble. Ceramic and porcelain tiles have a wider range of design possibilities as compared to other building materials for your kitchen countertop designs.
Advantages And Disadvantages
Though they have a beautiful look, easy to clean, and come at affordable prices.
But the tile gets more expensive when you choose to customize it and is not as strong as granite or quartz so tile cracking can be an issue. Secondly, the tile joints/grouts need proper cleaning as they are susceptible to germs.
7. Black Granite
Black granite countertop materials, whether glossy or matte, with splashes of various colors, always have a striking appearance. This granite kind also delivers a strong performance. Dark granite countertops, as strong and durable as any other granite, will always make a dramatic statement.
Black granite also has a more rough appearance, which adds a lot of attractive elements and depth to this natural stone. Because of this property, black granite kitchen countertop designs are one of the best kitchen countertop building materials, suited for all types of kitchen slabs to give your kitchen interior design a new look.
Advantages And Disadvantages
It comes with an attractive look and is stronger than many others. But due to its dark color, the kitchen might appear dark. Also, they are difficult to keep clean because of the visibility issue.
8. Laminate Kitchen Countertop
At a low price, laminate countertops have a fashionable and sophisticated appearance. Any kitchen interior may be transformed into a stylish sanctuary with the correct color or design on the countertop. You can simply transform your Indian kitchen or any other into a worthy cooking and dining space without spending a lot of money.
Above all, If cost is a major consideration, a laminate countertop may be the ideal option for your kitchen. You can even find a stone finish look from the laminate countertop.
Advantages and Disadvantages
It is so adaptable that it can be used in many places including the kitchen, bathroom, office, and laundry room. Laminate can also be utilized as a furniture surface or on a shop table.
Because laminate counters are easily scratched, they should not be used as cutting boards. One disadvantage of laminates is that they are sensitive to burns and chipping and they are not ideal where cooking is done, but can be used at meal prep area with a good chopping board on top.
9. Solid-surface material Countertop
Solid-surface countertops, which are made of a dense acrylic, polyester, or a combination of the two, are low-maintenance building materials. They come in a broad range of colors and patterns. They are stain and scratch-resistant, as well as repairable. Deep gouges can be filled, and scratches and burns can be sanded out.
A solid surface kitchen countertop designs are ideal for broad or long pieces of the kitchen slab because their joints are imperceptible and so they are the perfect building material for the kitchen countertop for a luxurious kitchen interior design look.
Solid-surface sinks are also available in a variety of colors to complement or contrast the countertop.
Advantages And Disadvantages
Solid-surface countertops are simple to fix, stain and scratch-resistant, and require little to no maintenance. The fact that solid-surface counters can be cut, carved, cast, and molded is perhaps their most appealing feature. A complete white color solid surface may catch Haldi (turmeric) and tea stain if not cleaned at that very moment.
10. Butcher or Wood Block Kitchen Countertop
Butcher-block countertops are a must-have in both charming rural cottages and rustic farmhouses. The surface is made up of assembled wooden boards that are warmer and more inviting than other materials and are timeless. Wood-block, which comes straight from nature, is biodegradable and eco-friendly, as well as adding an earthy feel to any kitchen interior or pantry.
Advantages And Disadvantages
Because wood is so versatile, many homeowners combine it with different building materials. These are pocket-friendly and easy to install.
Butcher-block has its own set of disadvantages. It is not liquid-resistant so it can grow molds, gather germs, and can even warp in shape if exposed to water and can catch stain too. It needs proper sealing and regular maintenance which can become a headache with time.
11. Concrete Countertop
Concrete, as solid and hard as granite or slate, has a sophisticated industrial appearance. It makes it a better fit in contemporary kitchen designs than manufactured or natural stones. They come with usually warm and shimmering surfaces that are surprisingly elegant.
Advantages And Disadvantages
Concrete is exceedingly hard, scratch and heat resistant. As you can mold concrete into any shape, you can have any shape and color as/ your house interior with this and you can even replicate the granite, marble, or even wood look.
However, it is very expensive, prone to stains, and needs a lot of maintenance over time.
12. Stainless steel
If you are a professional cook or you want to give your kitchen a stylish proper restaurant look, you can opt for this. Stainless steel kitchen countertops are mostly used in restaurants, hotel pantries, etc. These can be fully recycled and are easy to clean and disinfect in restaurants or others.
Advantages And Disadvantages
It comes with an elegant finish, is durable in nature and adaptable, and can't be burnt or rust.
Well, when we talk about its cons, they can be scratched and give a cold look and might not go with the decor of the house. Also, it can be way too noisy while working with it, also expensive as compared to granite.
13. G5 or Nano white Countertops
Nano white is a type of crystallized glass manufactured from a blend of silica and other natural minerals. They are available in three grades of quality, namely G3, G4, and G5, where G5 is the best quality.
They are non-porous & highly durable building materials & best suited for kitchen countertop design and you can transform your kitchen interior design look just by altering your kitchen slab with Nano white kitchen countertop.
Advantages And Disadvantages
They are extremely dense and hard to chip and are stain and acid-resistant. They give a very sophisticated look when used as a kitchen countertop but are prone to Haldi & tea stains if not cleaned right at the moment.
They are very hard and they need proper workmanship at the time of cutting the kitchen slab to accommodate the sink and are expensive as compared to granite or marble.
14. Glass Countertops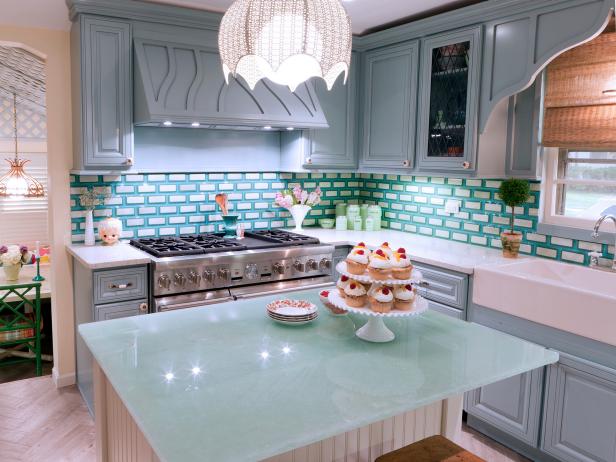 Glass countertops are equally as durable as their granite and other stone countertops. They are heat, scratch & stain-resistant and are non-porous, and create a healthy environment for cooking.
Glass is also easy to clean: a simple wipe-down with a wet cloth or non-abrasive cleaner will do the trick for most jobs.
Advantages And Disadvantages
Glass as a kitchen slab can create a light and bright, airy, and contemporary look to your kitchen interior design, and this kitchen countertop is customized as/ client's requirement.
They are not shock resistant so can easily chip or dent and can even get irreparable damage with heavy things. Secondly, they are expensive and need proper workmanship for installation.
15. Travertine Countertop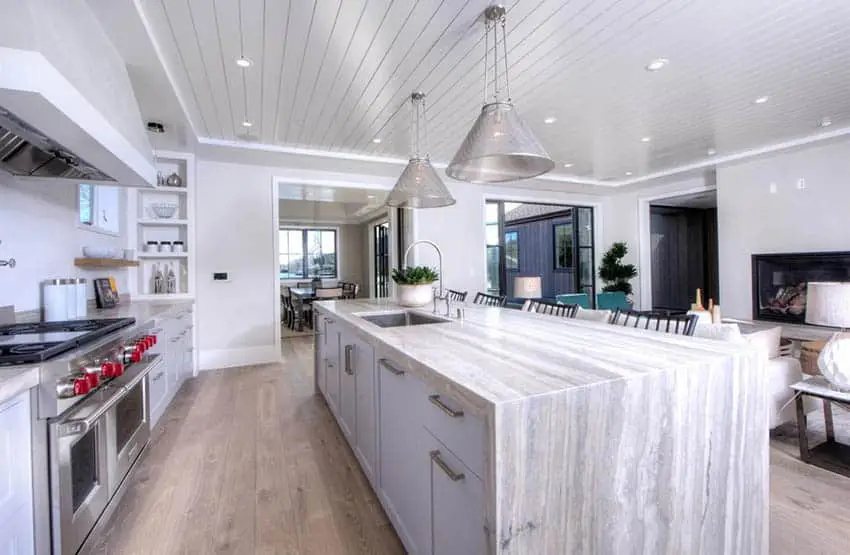 It has grown highly popular due to its refined, opulent appearance, which bears a remarkable similarity to marble. These countertops are available in a variety of tints and colors. Both cross-cut and vein cut stones are available for the countertops.
Those who enjoy combining beauty and vintage style should choose these lovely travertine kitchen countertops, which are the embodiment of subtle elegance.
Advantages And Disadvantages
Travertine countertops are distinguished by their uneven veins and pits, which give them a timeless and refined appearance to your pantry. They come in a variety of functional colors and hues that will complement any design and color style.
But, acidic solvents, such as orange juice and lime juice, are very reactive to travertine countertops. Since travertine stone is highly porous in nature, it can be stained by even the smallest spill. They need to be properly sealed when used as kitchen countertops.
16. Full Body Vitrified tile (size-2'X 8′)
In replacement of granite and other artificial or natural stone, you will now also find huge countertop slabs which are solely meant for kitchen countertops. These are robust vitrified materials for your kitchen countertop designs that are easy to wipe & clean and maintenance-free.
Advantages And Disadvantages
These kitchen slabs are cost-effective, easy to install, and durable but come in definite size, so can't be customized. Also, they are not as durable as quartz or stones.
17. Onyx Countertop
Onyx Kitchen countertops are rarely used but it is no less to add a beautiful and stylish look to your kitchen interior design. The surface is translucent and can be back-lit to create a magical effect.
Advantages And Disadvantages
These countertops are very attractive and give your kitchen a strong visual impact. But it also requires a lot of frequent maintenance and is less durable and expensive.
18. Dekton Countertops For Kitchen
It is a highly durable material and gives your kitchen interior a very sophisticated and stylish look. Furthermore, they are stain and scratch-free also, which makes a plus point whenever someone's opting for it.
Advantages And Disadvantages
It can be installed in one piece with no cuts, no joints, and no limits and gives your kitchen countertop a uniform look. They are nice to touch, resistant to daily grinds and the color can last for years.
Dekton kitchen countertop designs can be one of the best kitchen countertop options for your kitchen interior designs, but as a building material they are expensive and limited in quantity and so it not very popular as kitchen slabs like granite and other natural stone
19.Terrazzo Countertops
Terrazzo refers to marble/ glass chips cast into the slab, tile, or flooring. Terrazzo countertops are durable and don't chip over time. They are stain and scratch-resistant and are easy to clean. They can be customized to any shape, size, and thickness as/ design requirement.
Advantages And Disadvantages
They are durable, heat resistant & eco-friendly kitchen countertop materials and are available in a wide range of colors and varieties.
But they need proper sealing to make them stain-free and are difficult to repair once damaged.
20–Epoxy Countertop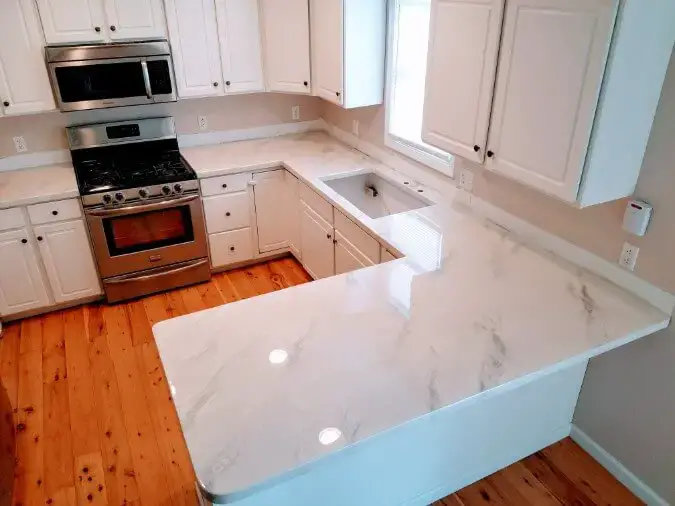 Epoxy countertops area raisin-based countertop where you can change the entire look of your kitchen slab without changing your kitchen counter physically. These are in trend among people who are looking for cheap countertops and who are experts in DIYs.
Advantages And Disadvantages
They are the cheapest way to transform your kitchen counter. They are durable, heat-resistant, easy to clean and you can have unlimited design options.
But they are not scratch or stain-resistant and can be damaged by excessive heat. Needs proper workmanship to apply and is irreparable once damaged.
Conclusion
Choosing the right kitchen countertop designs is really important because you won't be changing your kitchen countertop frequently and so you have to be very deliberate while selecting amongst various building materials to finalize the right kitchen slab for your kitchen interior design.
I hope after reading this blog post you will get an idea about the kitchen countertop options available which will help you to make the right decision.
Thanks for reading. Keep visiting 'Arch Finishes', for more updates on the market trends.